Hire an Off-Road Camper Trailer or hire before you buy!
Our Camper Trailers are manufactured in Australia and are of the highest quality to go off-road with reliability and comfort. We are the manufacturers in Western Australia of our Eureka and Cavalier Off-Road Campers hence availability for hiring these campers is far greater.
Our campers at Camper Trailers WA are heavy-duty, dust-proof, easy to tow and quick to setup whilst on the go.
Minimum 1 week Hire Periods for all campers in school holidays April, July, October. Minimum One week Hire around Christmas.
Eureka Offroad Camper Hire in June/July, minimum 1 week Hire.
Please ring the shop on 08 9240 8880 if wanting to hire for less days in these peak periods or to check dates available.
Business Hours –  Mon: 9am-5pm    Tues: 9am-5pm  Wed: Close    Thur: 9am-5pm    Fri: 9am-5pm    Sat: 9am-12pm Noon    Sun: Closed
Camper Trailers WA Pty Ltd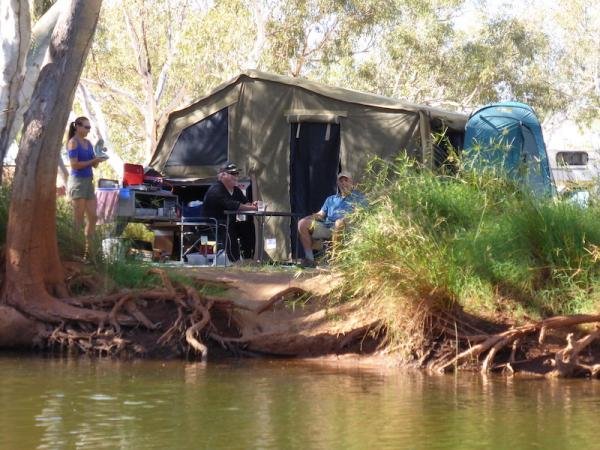 Off-Road Camper Trailer
Proudly made by us in WA this camper has a large soft floor fully sewn in, ideal for families or couples wanting to tow with the family car or a light 4WD with a down ball rating of 100kg or above. With over a cubic meter of storage space under the bed you have plenty of room for whatever you want to take with you. This camper is fully insured to go off-road and is serviced and maintained regularly (BETTER AVAILABILITY). - VIEW DETAILS FOR ALL INCLUSIONS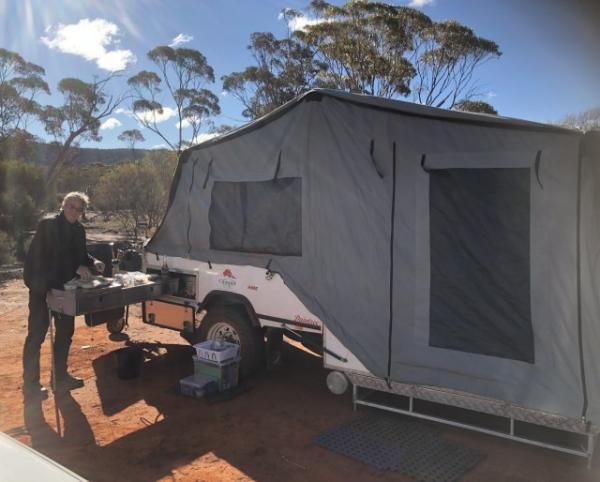 Off-Road Camper Trailer
A Light, Hard Floor, flip over, Off road Cub Camper, very popular Australian made Off Road Camper Trailer to be towed behind smaller 4WDs with a Down Ball Rating of just 150 Kgs. This camper is insured to go on "most" national park roads. This camper is fully insured to go off-road and is serviced and maintained regularly. - VIEW DETAILS FOR ALL INCLUSIONS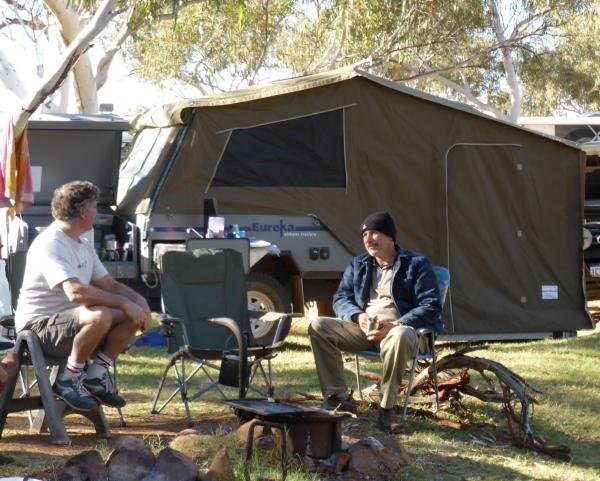 Off-Road Camper Trailer
Proudly made by us in Western Australia, our Eureka Camper Trailers are the most popular, flip over, hard floor off-road camper trailer. They are ideal for 4WD owners on the go (with down ball ratings of 200kg and above), and families looking to relax in the great outdoors. With an independent coil spring suspension you are guaranteed a safe, smooth and fully dust sealed ride! This camper is fully insured to go off-road and is serviced and maintained regularly. (BETTER AVAILABILITY) - VIEW DETAILS FOR ALL I


Not used to online booking?
Or are you confused about the booking process, please do not hesitate to call the shop +61 8 9240 8880 during business hours, we can help you book your dream camper trailer right on the phone!
Pick up / Drop off Location
Shop closed on Sunday, Wednesday & Saturday Afternoon, however you can make prior arrangement with the Shop or David regarding drop off or pick up during these days. Please contact the shop at Camper Trailers WA, Shop 7, 30 Erindale Road, Balcatta WA 6021, Australia Phone: 08 9240 8880
Frequently Asked Questions
What is the towing capacity of my car and compatible campers?
Can I do the pre hand over check with you a day before departure?
Yes, you can. In fact it will make your departure more enjoyable if you know everything is good to go and you will have no delays. Please ring the shop +61 (08) 9240 8880 to make arrangements. (Camper will need to be picked up at the day you have booked it in and not before).
Are the campers fully insured or is this an additional cost?
This camper is fully insured to go off-road (some destinations are strictly excluded). Please read the Conditions of Hire document to learn more.
What are the conditions of hiring a camper trailer?
I still have questions, who can help me?
If you are unsure about anything, please contact us before you book!
To Avoid Delays on Day of Departure you must:
Make sure your Tow Vehicle is compatible and has the appropriate Tow ratings to Tow our Campers (see pdf).
Check the rear light plug on your Tow vehicle is fully operational as this could delay you by a whole day!
Your vehicle Tow Hitch has been turned around to give you the highest possible setting above the ground, with a 50mm Tow ball.
Make sure your tow ball can be removed easily and is NOT RUSTED/Damaged?
We must demonstrate/handover to the person who has made the Booking and is the driver. Please allow up to 1 ½ hours.
Full payment has been made 30 days prior.
Security Bond is paid (the Security Bond is charged in the shop at the day of the departure)
Check that you have preselected ALL the options needed to make your holiday memorable.
Know where your fridge is going to be Stored eg. Car vs Camper
Allow enough time to pack your camper before your departure. We can not change the pickup date.
We can do a pre handover before you pick up your camper. Please contact the shop to make an appointment.
Hire A 4WD + Offroad Camper Trailer in Perth

Let David help you find the best 4WD to tow your hire camper into your outback adventure.
Our campers are built by us in Western Australia to handle the rough, dusty, unsealed roads so that you can explore the Great Australian Outback.
Our Off-Road Campers are reliable, strong and come with many features including a comfortable queen-size bed, 12v Battery, sockets and lights, slide out kitchen, etc. Options include Kid's Bedroom, extra mattresses, fridge and solar panels and more.
If you are looking for guided tours, join Camper Trailers WA on one of our Redtrack Eco Adventure Tours, exploring WA today. Click here to view more: www.redtracktours.com.au.
Read what others said ...