An Evening with Dave
Wednesday 4th August 2021 7:30pm @ Camper Trailers WA
Join in with our Karijini Camping Tour Group on this evening to see how a group gets ready for an exciting, camping adventure, departing, 3rd Sept. Learn how to become an independent camper and join us on one of our Spring/Summer Tours. Get to know Dave, the owner, builder and tour operator in person and ask him all the questions you ever wanted to ask.
If you  haven't used a camper trailer before and/or want to discover pristine, remote areas to camp at join us @ Camper Trailers WA. Please register your attendance here
Our Karijini National Park Tour is Fully Booked out (unless there is a cancellation).Places still available on our Spring/Summer Tours. Bremer Bay 11th Jan highly recommended for families. Baxter Cliffs (Great Australian Bight) highly recommended for those who have just retired.
Check out our TOUR CALENDAR
Cavalier Off Road Campers
Eureka Hard Floor Off Road Campers
Kimberley Off Road Campers
Light Off Road Camper Cub
Now also available for Hire in Broome through Broome Camper Trailer Hire
WA MADE, Cavalier Deluxe Off Road Camper Trailer with gas strutted boat loader. Like new and on display. Second hand, Australian Made, quality off-road camper trailers available.  Eureka, Cavalier, Redtrack, Kimberley, Pioneer, Cub.  
Explore WA with a quality Australian made camper and with confidence!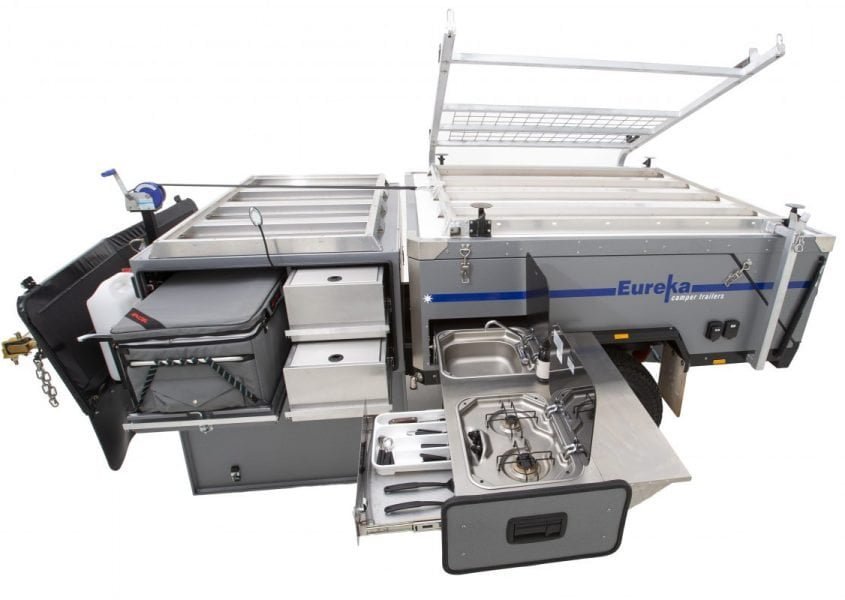 Our Campers are made by us in WA to Explore WA in safety and Comfort. Hire before you buy and Join Dave (the manufacturer) on a Guided Camping Tour.  View our Display today.
WA has gone camping crazy - Campsites are booked out almost a year ahead!
Book and pay your deposit ASAP to make sure you get a space. Every country town and caravan park is getting booked out 6-12 months ahead. OR Join Dave on one of his Tours without the hassles!
"Dave is your Choice of Tour Guide for your next Holiday Adventure!"
Explore Western Australia today!
Camp in style and comfort with a camper trailer that is strong, dust-sealed, has a well equipped kitchen, comfortable queen size bed, and only takes 2 minutes to set up.
Learn from your Tour Guide and the local people all about the stations, farms, flora and fauna, national parks, landscape features, coastal areas, and local food produce.