Please note: The shop will be closed from December 23rd 2023  to January 7th 2024. However, online hire bookings remain available during this period.
Info night with Dave @ Camper Trailers WA 
24th January 2024 7.30pm
Dave will highlight the features to look out for on Quality, Australian Made, Offroad Campers to purchase or HIRE. Followed then by a discussion on Redtrack Eco Adventure Tours that include Exploring Pemberton, camping in Warren River National Park & wine tasting during the harvest, Exploring Shark Bay & Francois NP, Exploring D'Entrecasteaux NP, canoeing, swimming and fishing the mouth of the Warren River, etc., etc. Learn how to become an independent camper. Get to know Dave, the owner, builder and tour operator in person and ask him all the questions you ever wanted to know about camping in Offroad Campers/Hybrids. Some of our tours don't require a 4WD. All wheel drive vehicles eg Subaru Forrester are ok for exploring. WA Dave can help you choose the correct weighted camper to tow behind your car!
Check out our TOUR CALENDAR          
Western Australian Built Offroad Campers :-
Book now for Christmas or school Holidays to avoid disappointment!
Cavalier Off Road Campers
Eureka Hard Floor Off Road camper
Light Off Road Campers
Now also available for Hire in Broome through Broome Camper Trailer Hire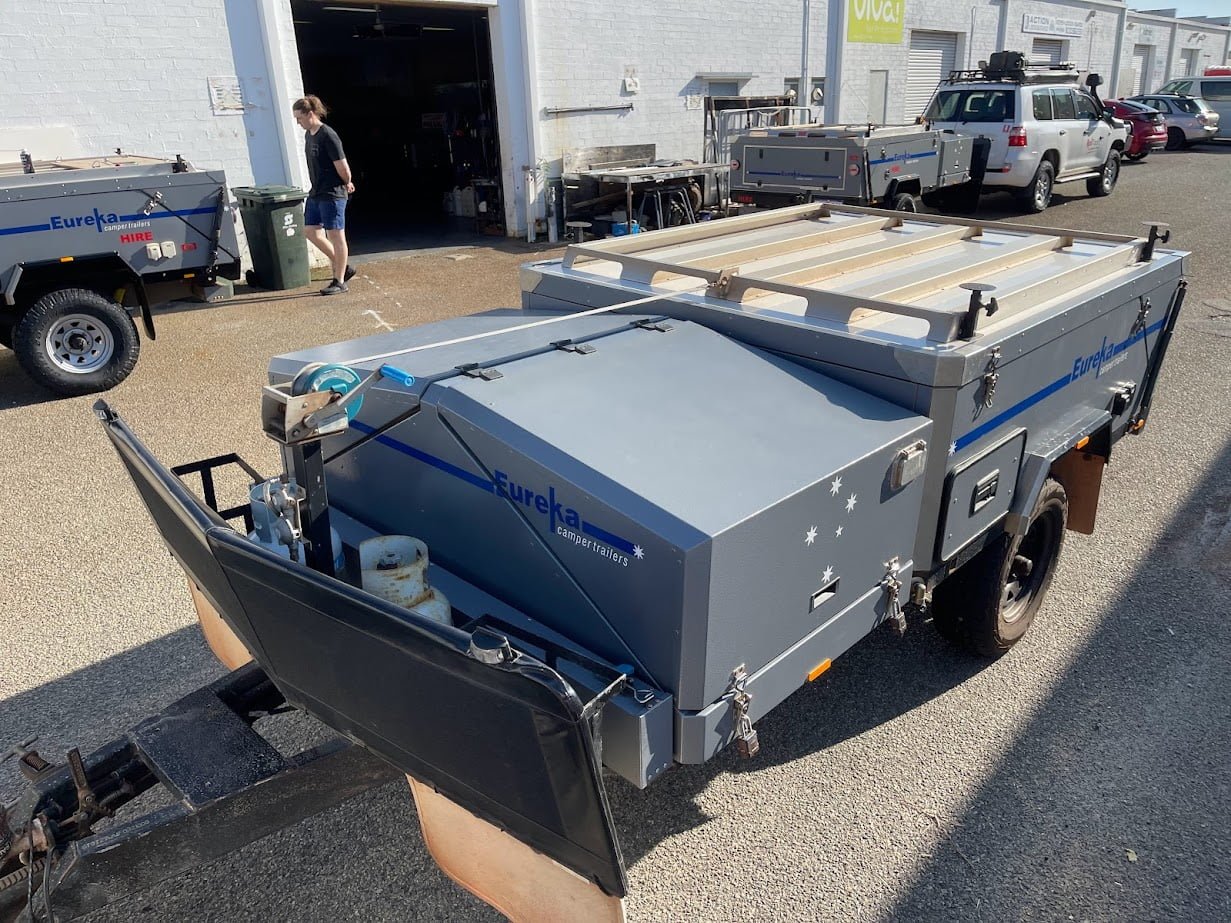 Eureka Offroad Camper. Australian Made!
Eureka Offroad Camper, WA made!  BARGAIN, $POA.  Phone Dave to view. Register your interest with Dave to purchase a Second hand, Australian Made, quality off-road camper trailer.  Eureka, Cavalier, Redtrack, Kimberley, Pioneer, Cub.

Explore WA with a quality Australian made camper and with confidence!
Eureka series 1 Offroad Camper. Manufactured in WA by us! Why not join Dave on a Camping, Tag A Long Tour soon. 
Haven't used a Camper Trailer before?
Join us on one of our Redtrack Eco Adventure Tagalong Tours to Explore WA
Explore Western Australia today!  Tagalong in convoy.
Learn from Dave your Tour Guide (with 40 years camping experience!) about station stays, farms, flora and fauna, national parks, landscape features, coastal areas, and local food produce.
Tagalong in our convoy and explore, remote, pristine areas of WA  in the comfort/safety of a small group of fellow campers, in an offroad camper/hybrid. A 4WD is NOT NEEDED on some of our tours.
Customised/personalised tours available as a passenger in Dave's 4WD.
If you don't own an offroad camper/hybrid, then Camp in style in one of our HIRE Eureka offroad camper trailers that are strong, dust-sealed, has a well equipped kitchen, comfortable queen size bed, and only takes 2 minutes to set up.
Read what others said ...