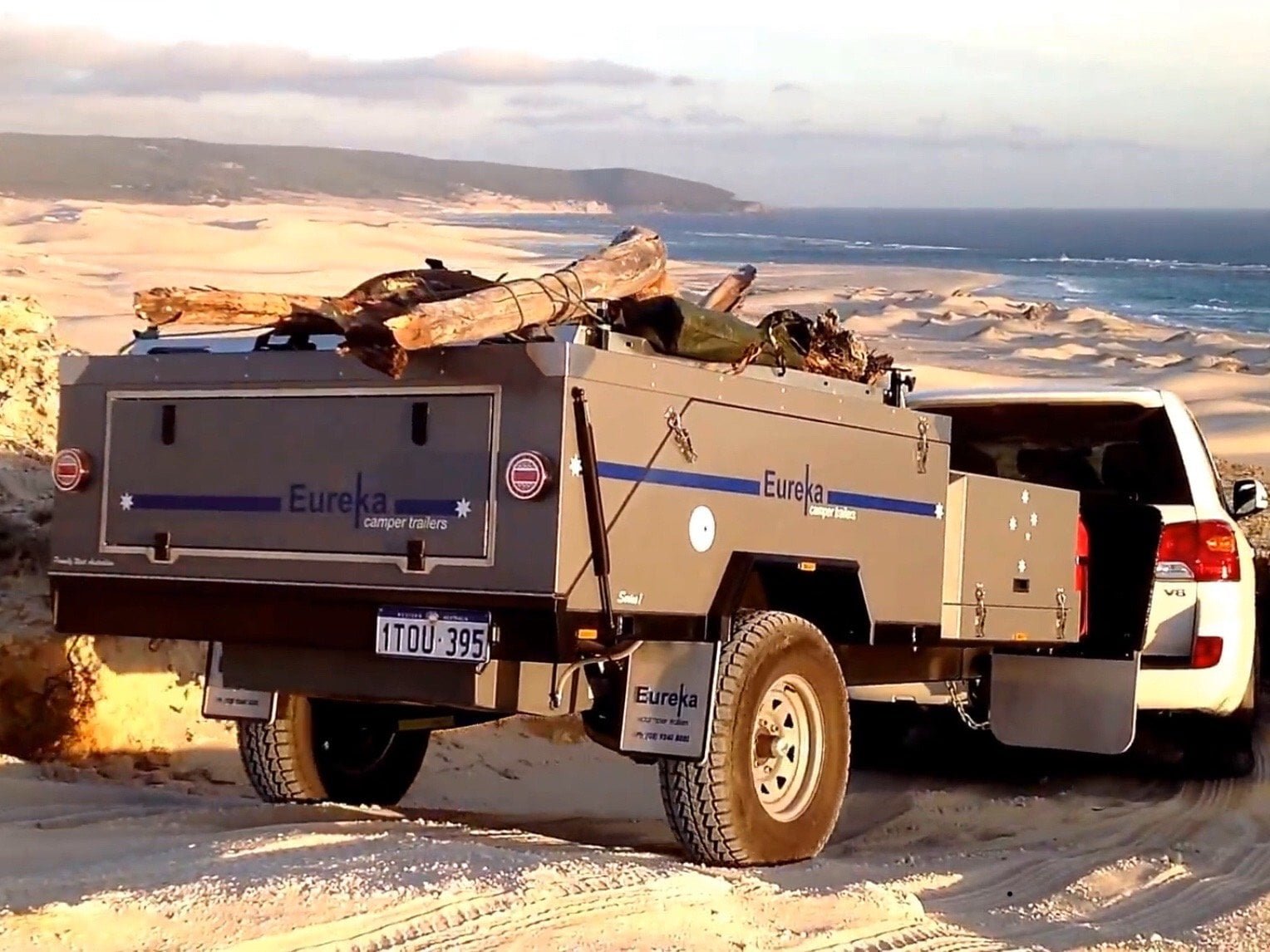 Eureka Series 2 – Hard Floor Off-Road Camper Trailer
Manufactured in Western Australia by Dave. We can custom build for smaller 4WDs
The Eureka Series 2 is an easily customisable and compact off-road camper trailer designed to withstand the toughest outback conditions. Australian made, quality built and eight years of proven reliability in our hire fleet, the Series 2 is the ideal camper for families, friends and your next outback adventure.
Why choose a Eureka Off-Road Camper Trailer 
Proudly made in W.A.
An affordable flip over hard floor off-road camper trailer
Made lighter for smaller 4WD vehicles
Independent coil spring suspension
Huge, stylish Gullwing alloy front box
Slide out stainless steel kitchen and 2 burner stove
Full off-road capability with dust sealing
2 year warranty on the chassis and bodywork. 5 years on the Canvas (Australian made Wax Converters Textile)
Main Features & Specifications
Galvanised RHS 150x50x3, chassis 75x50x2.5
Powder coated 1.2mm zinc anneal sheet metal bodywork
1.5 tonne rated axles with hydraulic disc brakes
Independent coil spring 'Gaffa' suspension with shock absorbers
Stylish, dust sealed Gullwing Box fitted to drawbar. Can take 60L Engel
fridge/freezer, generator, extra jerries, etc
Car door quality seals for effective dust sealing
Stone guard
Treg off-road hitch
3x new 15″ wheels and tyres, spare under chassis
Canvas is Australian made Wax Converters Textiles
12oz proofed walls, 15oz proofed roof
110L water tank
Integrated pole carrier
2x 4kg gas cylinders, 2x jerry can holders
Stainless steel sliding kitchen with cooktop, sink, electric water pump, and table
120mm thick queen size mattress
Instantaneous Gas Hot Water System
Electrics
12v 105 amp/hr AGM Battery
20 amp battery charger
Roof LED strip light
50amp anderson plug
2x LED stalk reading lights mounted to bed base
3x 240v outlets, 2x internal, 1x external
2x 12v outlets, 1x internally, 1x externally
Eureka Camper Trailer Options

Aqua Cube RV digital portable hot water system
Custom-built drawbar
Amplimesh Roof Rack. Purchase $690 (Not available for hire)
Ensuite 1m long. Purchase $1150 or hire for $100/week.
Kids bedroom 1.9m long ($1350 or hire for $100/week)
Fit up to 4 in the kid's bedroom with space for 2 single/bunks
Inside the kid's bedroom
Hire 40L Engel Fridge/Freezer. ($80/week)
Step in to bed
Full-canvas Annex. Purchase price $2750 or hire for $120/week
Large 2.4m Awning. Price $1390 or hire POA.
12V Electric Winch. $1290. (Not for hire)
Gas Strutted Boat Loader. $2390 or hire for $250/week
Gas Strutted Boat Loader. $2390 or hire for $250/week 
Gas Strutted Boat Loader. $2390 or hire for $250/week
Why would you choose an Eureka Camper Trailer over another brand
Speak to the actual manufacturer David, especially if needing a custom build, eg. matching wheels.
Being Manufactured in Western Australian means options, parts, repairs, and service are easily accessible from a small, family Business located in Balcatta.
We only use Australian Made WCT Canvas that comes with a 5 year warranty.
We only use Steel made to Australian Standards with the correct properties.
The Coil Spring Suspension is the "Gaffa" Brand made in WA with a great track record. Two tonne rated axles are used.
UNIQUE to the Market Place – This camper only weighs 1 Tonne empty which means it can have a "Pay Load" of an extra 1 tonne! Very important if you don't want your

 

4 Cylinder, 3L Diesel, 4WD WORKING TOO HARD

 

or wanting to load with the extra weight of a Dinghy and Outboard Motor Carrier.

 

Most imported campers weigh in at 1.5 – 1.7 Tonne empty with very long drawbars.

 

TOO MUCH weight on the rear of your 4WD! Our

 

Drawbar, DOWNBALL weight is approx. 170kg.

 

Which means a Toyota Kluger with a down ball rating of just 200 Kgs rating can tow this camper.
This Camper has been specifically manufactured to

 

HIRE OUT

 

and handle the roughest conditions and yet be easy to erect with just one person.
This camper is not sophisticated and doesn't have all the "bells and whistles", ideal for our HIRE FLEET!
Our Campers have great resale value and yet are hard to find in the used market place. They are not a disposable product!
This camper is DUST SEALED, unlike many others because we use heavy duty, purpose built, car Rubber "P" seals.
Speak to the manufacturer in person to find out the Quality control process and parts we use to build this camper.
NO need to remove your goods from storage areas to erect this camper.
The Sun Awning is very quick to erect and brace back to the bodywork. This camper doesn't need pegs to keep it up.
Very little maintenance is needed with the Hydraulic Disc Brakes and are very reliable. Electric brakes are NO good for hiring out in Off-road conditions.
If the axles are damaged they can easily be unbolted and replaced without the need for a very expensive suspension replacement.
Huge clearance under the chassis from the road base.
Can HIRE before you BUY
Our Hire Off Road Camper Trailers are meticulously maintained with a full service record for peace of mind.
Join David on one of his camping trips for approximately $100/car/day.
                     David is happy to make TIME with you to have a chat.